Email marketing automation is a way to pre-program personalized emails based on certain triggers, to help nurture prospects, and to increase sales. It allows businesses to send the right emails at the right time, to the right people.
Email marketing automation is not a magic "push button money dispensing ATM machine". Designing email marketing campaigns that consider the recipient and how they'll feel when they get certain emails or promotions takes skill and practice.
Let's dig into why email is important, who benefits from using it, how you can get started using it, and we'll wrap up with some great examples of marketing automation. We'll even through in some awesome resources for selecting your automation software. Let's dig into our ultimate guide of automation and get you headed down the right path.
What Is Email Automation? 
Email automation refers to the process of sending out emails to your subscribers or customers automatically, based on a wide range of specific triggers, schedules, or actions they take.
Instead of manually sending out an email message, businesses can use email automation platforms to set up drip campaigns, a.k.a. a series of emails, that are dispatched when certain conditions are met.
This could include welcome emails for new subscribers, follow-up emails after a purchase, or personalized recommendations based on browsing behavior for existing and potential customers.
The primary goal of email automation is to nurture leads, enhance customer engagement, and streamline communication processes, ensuring timely and relevant interactions with the audience.
Why Email Is Still Relevant
Whenever the topic of email marketing comes up, there's always a voice of dissent in the back of the room claiming that email marketing is dead. Far from it!
The reality is that there are more ways to communicate with prospects and customers than there have ever been. Today's popular communication methods include:
Mobile marketing via text messaging or SMS
Live website chat
Messenger chatbots
Social media
Automated voice calls via AI voice generator
Email marketing
Print media mail
Podcasts
Webinars and live-streaming
But the fact remains that email marketing is still very powerful. Here are some interesting email statistics:
When asked about communication preferences, 73% of millennials identify email as their preferred means of business communication.
Email marketing has an average ROI of 3,800%. In other words, for every dollar invested, the average return is $38.
Email marketing spending in the United States is projected to grow from $2.07 billion USD in 2014 to $3.07 billion USD in 2019.
Email marketing both relevant and it's also within your control. If a social media site goes down or starts charging exorbitant rates to reach your audience through ads, you're in quite the pickle. But with email, other than the costs of your CRM or email marketing platform, you can't be priced out.
Who Benefits Most From Email Marketing?
You might be thinking that only big brands and companies can afford to design elaborate e-mail marketing automation campaigns.
Yet, I've found that it's the micro brands and small businesses that benefit the most and can best leverage automation that's truly personalized.
Why? Because bigger companies tend to be further removed from their customers, and that makes it harder to create e-mail campaigns that feel personal and useful.
On the other hand, small business owners speak to their clients and prospects every day, they know where people get stuck, and they know what topics will make the best content for their e-mail automation efforts.
Plus, it doesn't take a ton of money to invest in an email marketing platform that has automation built-in. You can learn more about this by reading our full CRM comparison guide.
How To Get Started With Email Marketing Automation
So you want to give email marketing automation a try, but what exactly elevates a regular email platform from one that focuses on automation?
The biggest differences come down to:
Who gets what emails. Automation allows for segmentation. Instead of a general "email blast" that gets sent to everyone in your email database, you can select specific segments of your list to target.
When types of emails are sent. Automation allows emails to be sent based on events, triggers, or timers.
What content the emails contain. Automation allows for more specific information, that is personalized for the receiver.
Let's explore how you can create email marketing campaigns using the key ingredients of smart automation. These will apply even if you're not a programmer!
1. Collect Email Addresses
The first step in any email campaign will always be to start with collecting email addresses in your email marketing software, usually through a landing page or opt-in form on your website.
Understanding why someone is opting into your email list will help you design the best follow-up campaign, so this step really matters.
If someone is raising their hand to hear from you via email, it's because they expect something in return. They could be signing up to receive more information about your products or join a waiting list, or they might want advice or news on a certain topic.
The most often overlooked step when creating an entry point into your email list is to track what motivated this person to opt-in at this particular point in time.
If they opted in for a lead magnet, tag them with the topic they're interested in. If they signed up for a free webinar, or to schedule a consultation, you need to track that information so you can follow up differently in each case.
This brings us to the best way to track this information… tagging!
2. Segment Your Email List With Tags
In most modern email marketing automation platforms, the way that you keep track of contact data is through tags.
Instead of adding people to "lists" or "groups", you simply apply a tag whenever you have more information about a person.
For example, you might have tags in these categories:
Topics of Interest – Pilates, healthy breakfasts, sleep advice
Customer Journey Steps – Registered for a webinar, attended a webinar, visited a sales page
Client Onboarding – Purchased product A, attended an onboarding webinar, logged into a download area
Appointments – Booked an appointment, was a no-show, attended
Online Course Progress – Completed week 1, took a quiz, completed certification
A person's automation tags tell you more about them and their interaction with your company.
If they're more engaged, they'll likely have more tags, and in turn, you'll have more information to use in sending them personalized information and emails.
This helps you categorize prospects who are mildly interested versus those who are ready to invest and do business with you.
Tags also give you the ability to stop and start different types of emails, based on someone's actions.
3. Personalize The User Experience
If an email doesn't speak to you, you're more likely to trash it.
That's why marketing automation and personalization go hand in hand. With the use of tags, custom fields, and merge fields, you can design emails that are more specific and useful.
From varying subject lines, and even showing a different call to action – you can make your content more specific.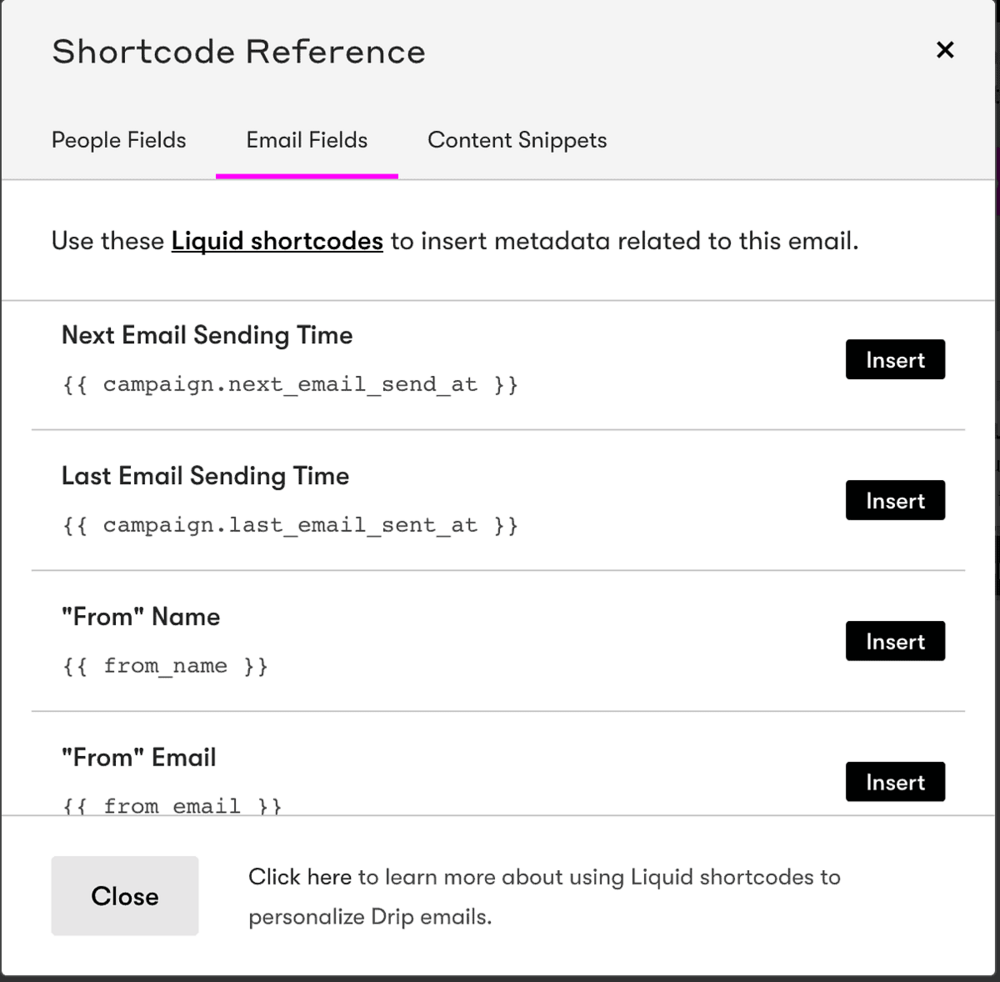 You've probably seen automated emails that call you by name, and that's certainly one way to personalize.
But email marketing personalization goes even further: you can design email sequences around specific topics and send these emails only to people who have expressed interest in that topic and that have this topics' tag.
You can also merge other data, like when the person joined your email database to send them milestone emails like a happy 6-month anniversary email.
Or you can use someone's location to send information about local events. You might also merge in someone's industry, point balance, or other data that you've gathered over time.
Each of these automation examples allow you to craft emails that you'd never broadcast to your entire email list – they're personal. And a personalized email makes them more valuable for the recipient.
4. Automated Workflows Via Dripped Emails And Timing Sequences
One of the core aspects of email marketing automation is to make sure that the timing of your emails make sense.
In the past, the extent of dripped email follow-up sequences was that you could set a schedule with "wait timers".
For example, you might have emails going out every two days after someone joins your list.
Today with more advanced marketing automation platforms, you can time e-mails based on:
Whether or not someone has opened the previous email
A specific date and time
An action or tag has been applied
A certain web page was visited
Set drip frequencies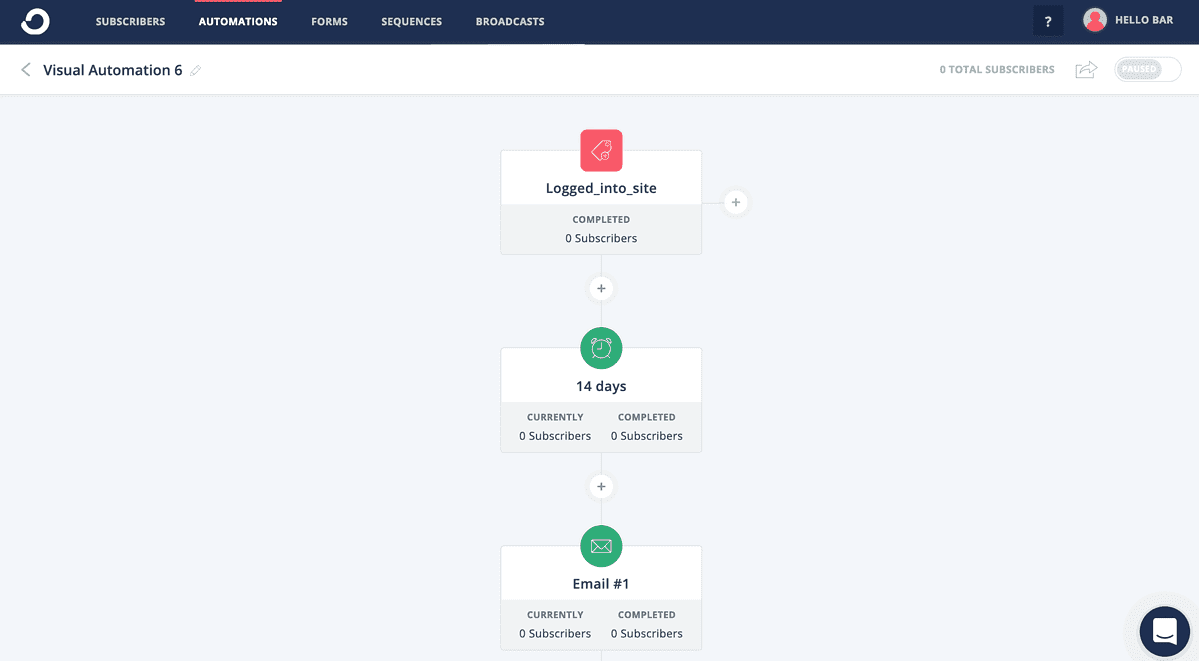 This gives you more flexibility around your emails: so you don't burn people out with too many emails when they're overwhelmed or not interested. Spend your time nurturing those that are eager to get going.
Dripping content to send automated emails over time means you can meet people where they're at, and it provides another level of personalization that can help you sell more and feel good about it.
Plus, with email marketing automation and the ability to set specific times for email delivery, you can drip other types of content like online courses or even monthly membership content. Automation is not just about selling. It applies to many different types of email communication.
5. Use Action-Based Triggers
The final (and often overlooked) part of email marketing automation is the ability to trigger an automation based on specific actions.
The sky is the limit when it comes to what types of triggers you might use to create automation flows.
For example, you might check whether or not someone has opened and clicked a link in an email. Once you know what the clicked on, you can use this information to send more blog posts or links about related topics.
Or, you might do the reverse and begin a re-engagement campaign when someone has not clicked a link in any of your emails in the past few months.
Perhaps you'll send an email once someone's earned "points balance" reaches a certain level to congratulate them, and tell them how to use these points.
Another way to trigger a follow-up campaign might be based on how someone answers quiz questions, whether they show up for a webinar or not, or if they start an order but abandon the cart.
Maybe someone opts in on your website for one lead magnet, and the next day they opt-in again for a different one. In this scenario, you could use that information to trigger a survey or have someone individually reach out to schedule a consultation call. The automation and tracking helps you the interest level this person has in your business but that they might need an extra push to move forward.
The magic of action-based triggers is that you can design the flow you want your prospects and customers to experience, and then let the email marketing platform do the work for you.
Marketing Automation Examples
Let's look at specific email automation marketing examples to get your wheels turning, shall we?
Email Sales Funnels
This example from Copy Hackers is a great meta-example of email copy that helps you sell, through an email sales funnel.
This is arguably the biggest use case for email marketing automation, or at least the one that can convince any business owner that it's worth investing in…
Why? Because if you can automate the sales process and increase the conversion rate of people who purchase without speaking to anyone at your business… you'll be ahead of your competition.
But creating an email sales funnel takes finesse, and writing a series of sales emails isn't for the faint of heart. You might hire a copywriter, or decide to spend time optimizing emails to see how you can best win new customers over.
Client Onboarding
This client onboarding email example from AirBnB helps new hosts get up and running.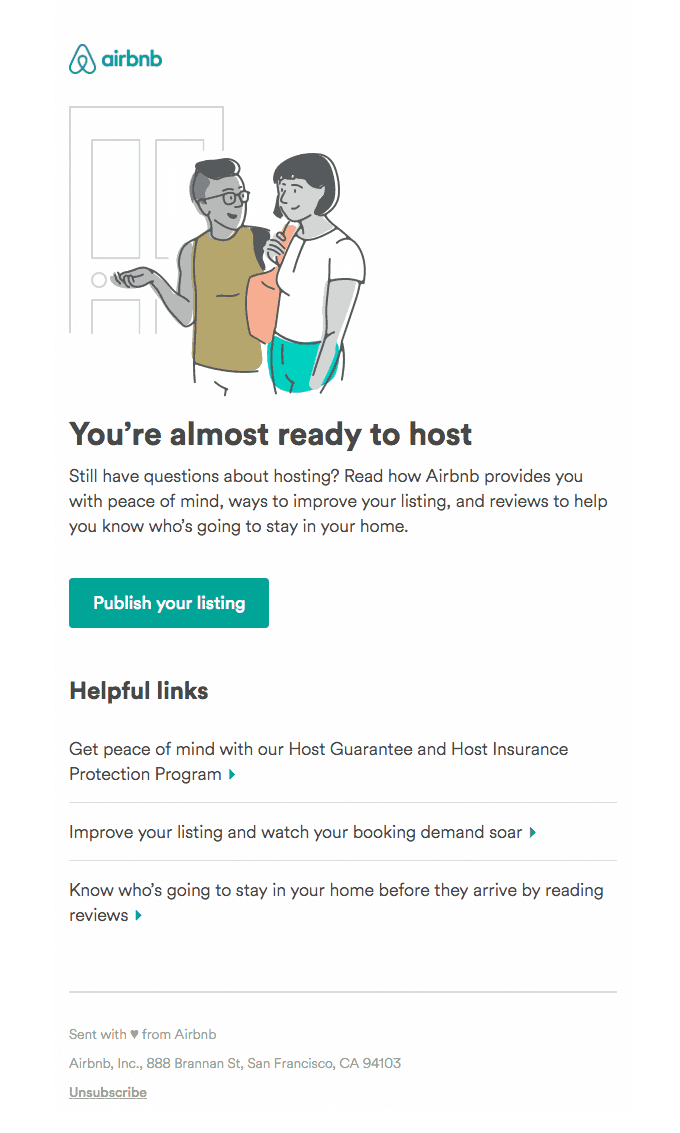 Onboarding email sequences come in many flavors, but the main focus of an onboarding email sequence is to get someone up to speed on your processes, service, or product.
In this example from Airbnb, we're being walked through the setup process for becoming a host. If you're onboarding someone for a service, you might have forms that people need to fill out or videos for them to watch.
For a product, your onboarding emails might focus on where to find training tutorials or the first three steps to getting up and running.
Credit Card Dunning Notices And Reminders
In this email automation example, Dropbox is reminding the customer that they're about to billed for their yearly subscription.
One of the most polite things businesses can do is remind their customers when a recurring charge is about to occur, so no one is surprised – and if they need to update their payment details, they have time to do so.
You can use your email marketing tool or CRM integration to detect when a credit card has already expired, which is how you can send "credit card dunning emails" before a charge is processed.
Or, keep it simple and just remind people that they're about to be charged – this is especially important for less frequent subscriptions like a yearly plan.
Lead Nurturing And Email Courses
Here is an automation example from Nutritious Movement. This email keeps people engaged with regular challenges, updates, and other nurture sequence emails.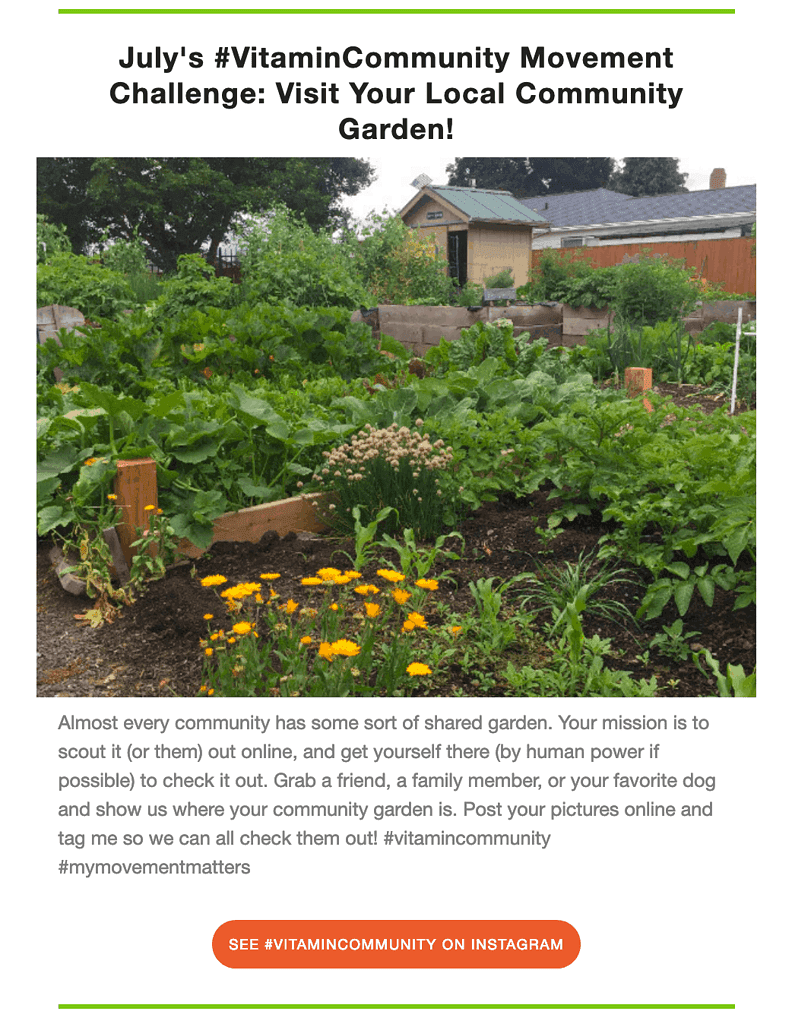 There's a time and a place for email broadcasts, and with email marketing automation, you can even pre-schedule and automate your nurture sequences.
For example, you might map out an entire year of emails that nurture your email subscribers and give them monthly challenges or other prompts to stay top of mind.
This is a great way to have ongoing content and touchpoints, without having to re-invent the wheel. Using seasonal content works well here, too!
Feedback And Net Promoter Scores
You can also collect client feedback through email marketing automation campaigns like the NPS.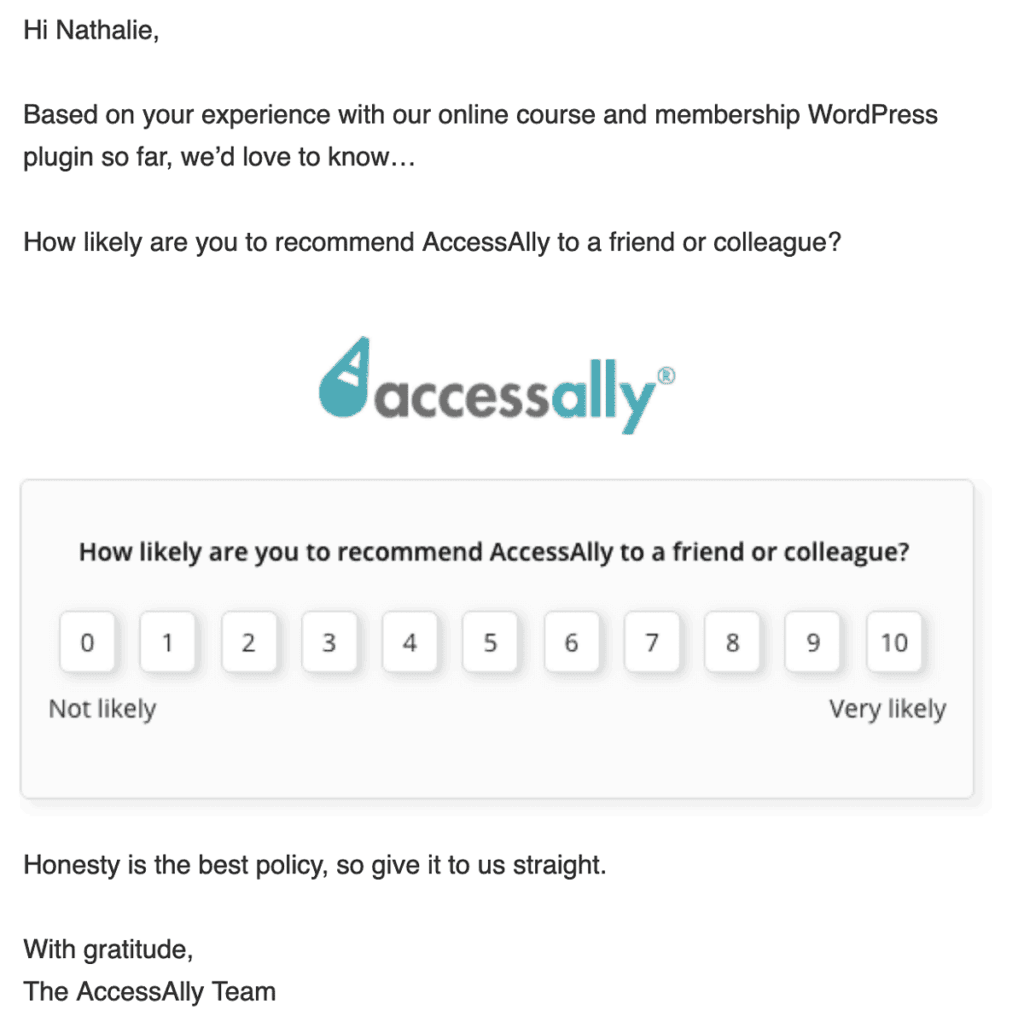 After someone has been doing business with you for a given amount of time, it's a good idea to check in and see how they're enjoying the experience.
You can do this by sending a quick survey email, or even asking people to do what emails were originally designed for – to hit reply and give you their feedback in a written response.
But one popular and effective method of asking for feedback without too much involvement is to use the Net Promoter Score.
Abandon Shopping Cart Follow-Up
Many people start their orders but don't complete them – that's where abandoned cart follow-up automation comes in.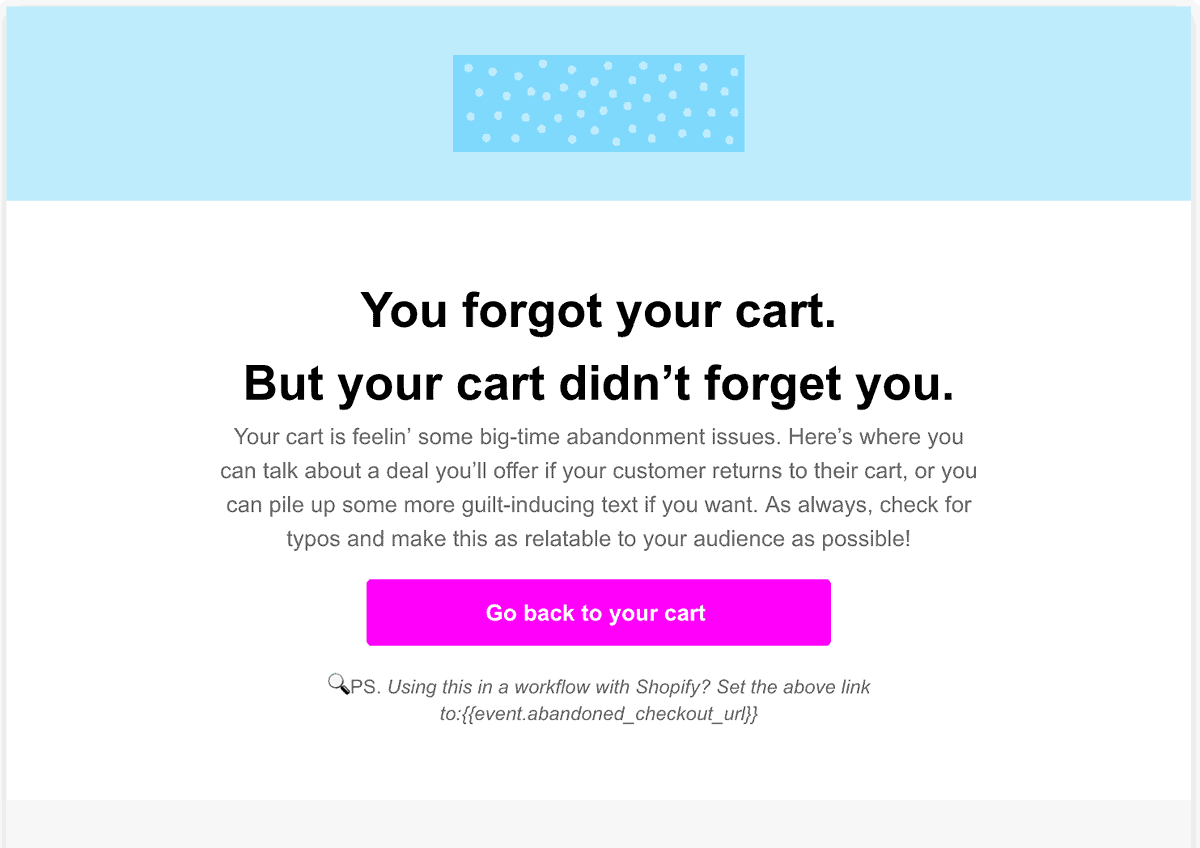 Not everyone who clicks "add to cart" or "buy now" is going to complete their order… but if you collect their email address, you can use email marketing automation follow-up and re-capture a percentage of these lost sales.
You might need to choose a shopping cart abandonment solution that integrates with your CRM, but once you've done that you'll be able to get back in touch with interested buyers.
Think about it: if someone was interested enough to click buy, it's a good idea to remind them and give them a few more chances to finish their transaction and become a client!
Appointment Scheduling And Follow-Up
Making sure people show up or have the ability to reschedule appointments is an important part of marketing automation.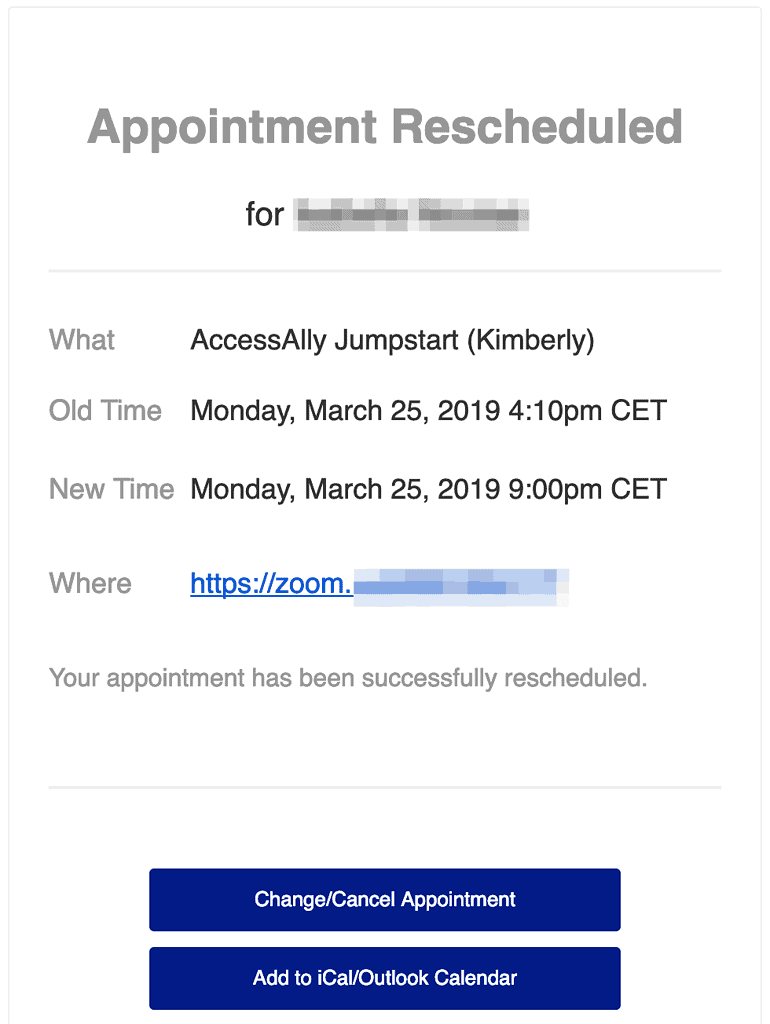 There's nothing worse than a no-show once you've blocked time on your calendar… so using email marketing automation and reminders gives people the ability to reschedule or just keep track of their appointments with you.
In this example from Acuity Scheduling, you can see that a client has rescheduled an appointment. But it's equally important to be able to email people and "sell them" on attending a pre-booked session… especially if these sessions are part of your sales or onboarding sequences.
Location Specific Event Reminders
This is an example of what a local restaurant shared on Really Good Emails. It's a good idea to automatically email people when they book in.
Whether you run local events or have a local venue, being able to send email reminders or invite people who have indicated their location is extremely useful.
Filling in-person events takes a lot of work, and making sure that people overcome their natural inertia and actually show up is half of the equation of success, too.
With email marketing automation and email reminders, you can make sure that all of your promotional efforts don't go to waste.
Webinar And Replays
Sending webinar reminders and replays can help you turn a one-time event into a win for your business, as Paul Jarvis shows in this Chimp Essentials example.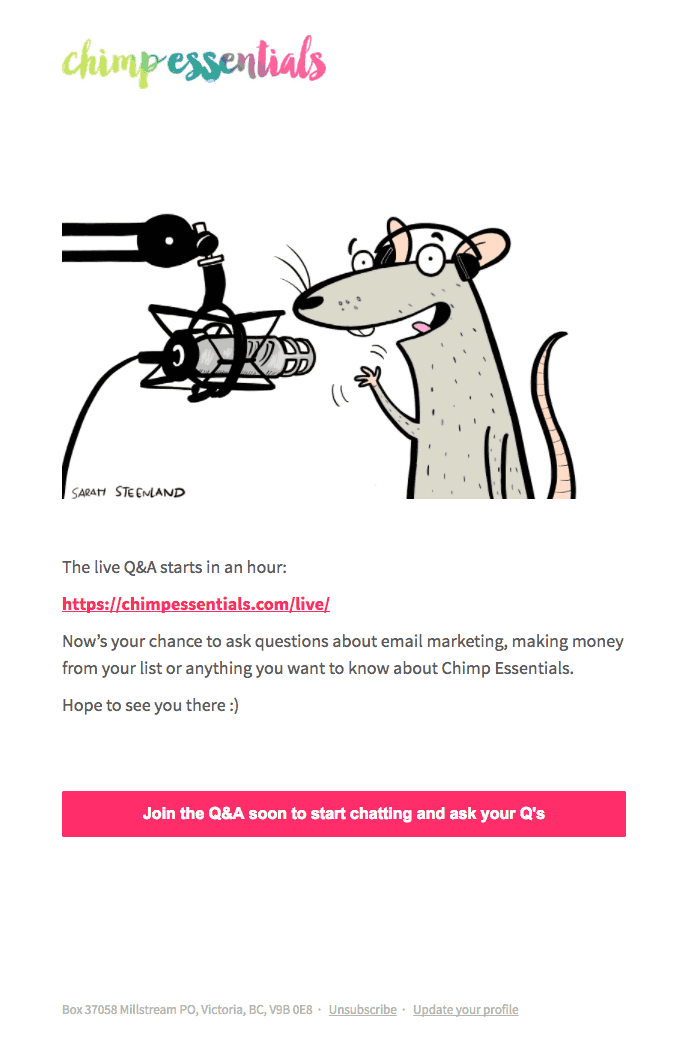 There's a lot of time and energy that goes into putting together a high-value webinar or live stream event, so making sure that people know about it, and most importantly that they show up, is key.
Sending automated or pre-scheduled webinar reminders and webinar recordings or replays is the best way to make the most of your efforts.
There are ways to use webinar marketing automation to replay previously recorded webinars, too. The sky is the limit when it comes to delivering content, just remember to keep your participants and listeners in mind.
Expiring Evergreen Sales
In this evergreen sales invitation from StoryBrand, there's a built-in deadline to sign up for a course.
Giving people a deadline is a great way to help people decide whether to buy or not. You can use email marketing automation to set up evergreen limited-time coupons and build in scarcity.
It's up to you how you want to position your evergreen offers: will you offer additional bonuses and add-ons for purchasing within a certain time frame? Will you discount your pricing or take the offer off the table entirely if a deadline expires?
It's worth testing these different evergreen sales strategies, and with the right marketing automation platforms you've got the ability to compare and contrast.
Memberships And Digital Courses
Whether you offer ongoing updates or office hours to your membership site subscribers like Digital Marketer, or you run a more traditional online course – email is key to letting people know what's coming next.
When it comes to launching online courses and membership sites, email is a natural extension that helps keep people engaged.
You can pair email marketing with your online course or membership platform, just make sure that it's deeply integrated so that you can make the most of the automation capabilities.
Some examples of the type of email marketing automation that can make a course more successful include: emailing when someone hasn't logged in for a while, or letting people know about new modules and content.
Milestones And Celebrations
We all love a good celebration or milestone! You can reach out to people when they've been using your product or service after a set amount of time, too.
We naturally celebrate milestones with friends and family, so why not take inspiration for your business relationships too?
With email automation, you know exactly how long someone has been a fan or client – so why not celebrate the passing of time together? It's also a great opportunity to offer a special incentive to do business together or otherwise further the relationship.
Re-Engagement Campaigns
In this email automation example, Typeform is emailing someone who hasn't interacted recently.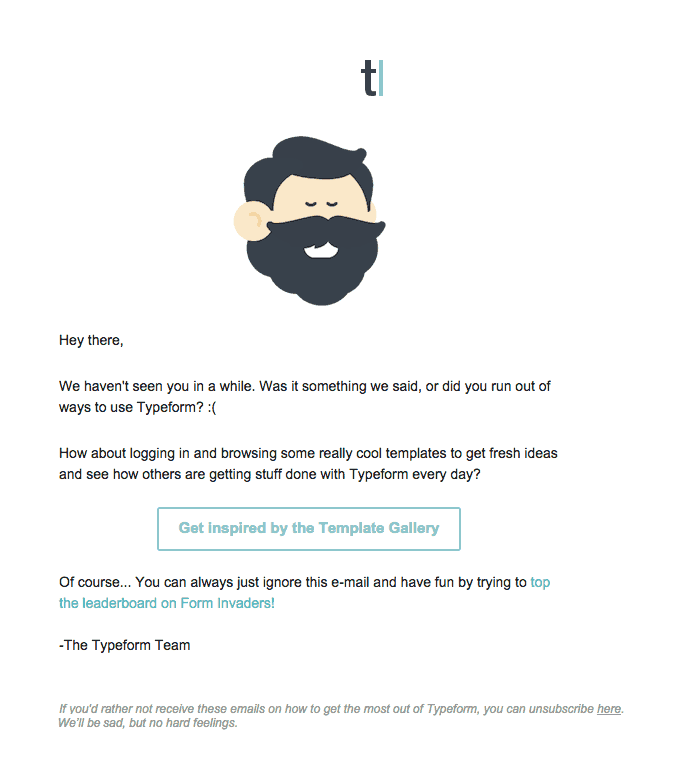 You don't need to have an app or SaaS business to use email marketing re-engagement best practices. If someone hasn't opened an email from you in a while, say three months or so, it makes sense to check in with them and try to add the spark back into the relationship.
You can get inspired by these email re-engagement campaign email templates, or write your own.
The important thing is to leverage the power of email marketing automation and make sure that people who are still interested are able to stay informed.
Points And Gamification
If you've built gamification points into your business, you know how powerful it is to remind people of their point balance. Starbucks does this with the below example.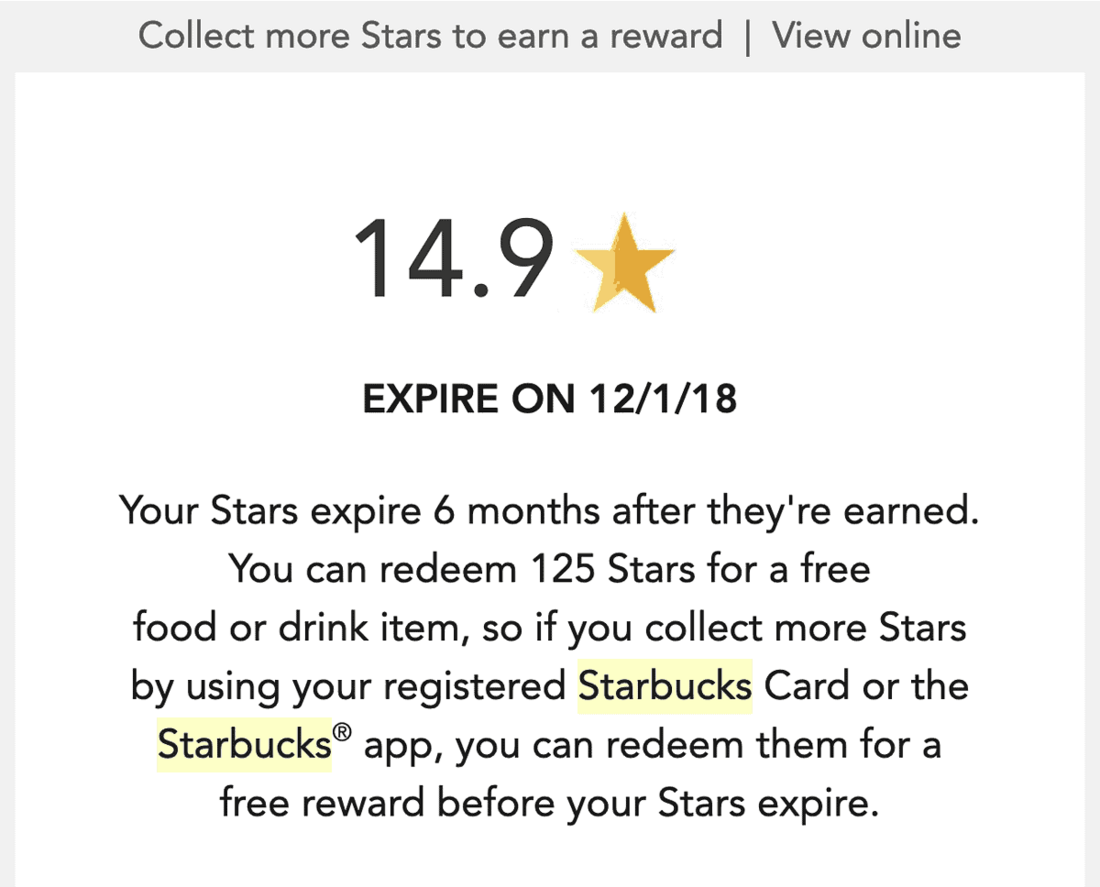 You don't have to be a big business like Starbucks to implement a points or "credit system" into your business to reward people. You can use the email automation provided by top of the line CRMs to do it for you.
If you're curious and want to learn more, you can read more in our adding credit systems post.
LMS Gamification might sound like a buzz-word, but it taps into some of the most basic human wiring. We like to collect things and unlock rewards, and if you tie points into a useful part of your business then you'll be doing customers a favor, too.
How to Choose The Right Email Marketing Automation Platform For Your Business
We've looked at why you want to embrace email marketing automation and we reviewed lots of examples for how to implement it the right way. Now let's chat a little about your options for selecting an email marketing automation tool.
You might be wondering which email automation tools are up to the task and fit within your budget.
Understanding Your Business Needs
Before diving into the vast sea of email service providers, it's crucial to first understand the unique needs of your business.
Are you looking for an all-in-one solution that can handle both marketing emails and transactional emails alongside signup forms and automation features?
Do you want a huge library of pre-made templates and pre-built automations?
Or, maybe you need unlimited emails and unlimited contacts because you have a huge mailing list?
By pinpointing your specific requirements, you can narrow down your choices and avoid investing in a platform that's either too complex or too basic for your operations.
User-Friendly Interface
One of the primary features to consider is the user interface. A platform that's intuitive and easy to navigate can save you countless hours in the long run.
It should have a clean design, include an easy-to-use drag-and-drop editor, and it should be easy for seeing and managing your contact list.
Pre-Built Email Templates
Having a range of both custom-coded and pre-built email templates at your disposal can make your email campaigns stand out. Look for platforms that offer intuitive email design and/or email editors that are customizable to your brand's aesthetics and look great on a desktop, tablet, or mobile device.
Integration Capabilities
Your email marketing automation software needs to play well with other third-party tools. Ensure that the platform you choose can seamlessly integrate with your customer relationship management platform (CRM) and any ecommerce integrations at a minimum.
Depending on your business, you want to make sure that your email automation tool has sync integrations with any other key platforms that you use. This will not only streamline your operations but also create a cohesive customer experience across all touchpoints.
Advanced Features
From advanced audience segmentation to advanced reporting functionality, you want to think through any complex functionality that your business might need.
While these features might come at a premium, they can offer a significant return on investment for larger businesses or those with more sophisticated marketing strategies.
Budget Considerations
While it might be tempting to go for the most feature-rich platform, it's essential to keep your budget in mind.
Many platforms offer tiered pricing based on the number of subscribers, emails per month, or specific features you need. It's worth exploring different pricing models to find one that offers the best value at an affordable price.
Remember, to think about the cost per month compared to the features you are getting.
Our Top Recommendations
Here are our top recommendations for email automation software:
Note: These use affiliate links.
Before you decide on an email marketing service, you'll also want to consider how these compare to other popular software tools. We've reviewed lots of email and CRM packages, so we've done a lot of this work for you.
Here is a big list of automation software alternatives to help you in your search:
ActiveCampaign Alternatives
Ontraport Alternatives
ConvertKit Alternatives
Infusionsoft Alternatives
Drip Alternatives
Mailchimp Alternatives
Want even more analysis? Read the In-Depth CRM Comparison.
***
In conclusion, choosing the right email marketing automation platform is a pivotal decision that can significantly impact your business's success. By considering your needs, prioritizing essential features, and doing thorough research, you can find the perfect platform that aligns with your goals and budget.