The WordPress membership plugin that helps you create and sell content to your tribe
Why a WordPress Membership Plugin Increases Revenue From Your Subscription Products
The most successful recurring revenue streams for online businesses tend to share the same underlying characteristics: high-value products, automated sales & retention, and a VIP experience for each subscriber.
Unfortunately, since most WordPress membership plugins are developed as a standalone tool that can password-protect your pages, pulling together the "full" membership experience for your clients often means any number of the following:
A hodge-podge of plugins to cover all the basic and advanced functionality that you need
Custom coding to ensure that there are no conflicts between those plugins
Further custom coding to try and patch "integrations" between each tool so they work in tandem (instead of at odds) with each other
Lost money and time spent upgrading your tech stack down the road to fit the changing needs of your business
... not a good situation.
We've been there ourselves, which is why we decided to develop a WordPress membership plugin solution that would work for other serious business owners hoping to generate powerful streams of recurring revenue via membership and subscription programs.
The AccessAlly plugin is a premium solution designed to give you all the fundamental tools you need to create, sell, and automate a membership program on WordPress ... at a price that's static, no matter how many members are running through your programs.
Each feature is designed with the functionality and flexibility you need in mind, so you don't have to keep adding plugins to your tech stack as you grow.
Protected Membership Content
Easily create the content (online courses, downloadable resources, you name it!) for your members-only areas using the Wizard.
Create order forms for your subscription products that increase sales and revenue for your programs.
Unlimited Membership Formats
Create as many membership or subscription tiers as you want. Pricing & permissions are fully flexible.
Keep track of what's working with your recurring revenue set up by setting up a custom metrics dashboard.
Keep your site up-to-date and growing with our easy user management features, from permissions to payment management.
Create a user directory to showcase program graduates, or simply allow members to connect with each other.
... all automated with your CRM
Use the automation tools, tagging, and email sending inside your own CRM platform to create the custom automations you envision for your membership site.
Not sure which membership site features you need?
Read through the list below to learn more about how you can improve the user experience within your programs with our carefully curated selection of membership & subscription features.
Protected Content for Your Membership Program
With AccessAlly, you can create flexible, functional content layouts that fit whatever format you envision for your membership site.
(Membership tiers, online courses, affiliate areas, downloadable resources, you name it!)
The Course Wizard walks you through all the steps you need to make sure the foundation of your content & corresponding user permission settings are in place: permission settings, individual page creation, and even order forms.
... and unlike many other online membership platforms out there, you aren't limited in the amount of content or subscribers you can house. You pay one price for AccessAlly, whether you're creating one program or a hundred.
Unlimited Membership Formats (thanks to tag-based permissions)
One of the more common course formats for membership programs is the "tier" model. In this model, new members sign up under a specific tier, which represents a unique level of investment and value (think "silver, gold, platinum").
With AccessAlly, you can create as many tiers as you want for your membership program ... but you're not limited to the same format for each.
Since AccessAlly uses your CRM's tagging system to determine permission settings, tiers can be as static or flexible as you want (or not exist at all!), allowing you to do unique things like:
Create a base ongoing membership program that encompasses all users
Create a multi-level membership, where you encourage subscribers to upgrade to a higher tier (AccessAlly can even pro-rate their new subscription, so none of their investment is lost!)
Monitor, Manage, & Improve Your Program With Admin Tools
Despite the name, automated recurring revenue isn't actually a thing.
For your program to be successful, you'll need to pay close attention to your statistics so you can pinpoint where roadblocks occur and identify where you might need to improve.
This is where AccessAlly's suite of admin tools are invaluable, allowing you to do things like:
Process cancellations & refunds (hey, it happens.)
Create a custom dashboard to track the sales & retention metrics that matter most for your business
Manually update a client's permissions (for those one-off cases where your custom automations don't apply)
Merge duplicate users
... and more
If you have AccessAlly Pro, you also get unique LMS features that allow you to track how users are interacting with your content, which can really help keep members engaged and subscribed for longer.
Order Forms: Flexible Enough to Fit Your Sales Model
With AccessAlly's order forms, you can create mobile-friendly order forms that showcase your program in the best light possible.
The flexibility of recurring charges allows you to do things like:
Sell your membership program as ongoing (ends only when the subscriber initiates a cancellation)
Create finite, limited-time subscription ("subscribe to our program for 1 year")
Include sales tax, VAT, and other fees you're legally responsible to collect as an online business owner.
AccessAlly's e-commerce functionality is so robust, it really is a feature unto itself. You can learn more about what's possible here.
Monitor & Improve Revenue Stream with a Metrics Dashboard
They say that what you measure improves ...
With AccessAlly's metrics tracking feature, you choose what you want to track, measure, and improve for your membership or online course setup. Build a custom dashboard to get an at-a-glance view of what's working and what you want to improve for your business.
Showcase Site Users With a Directory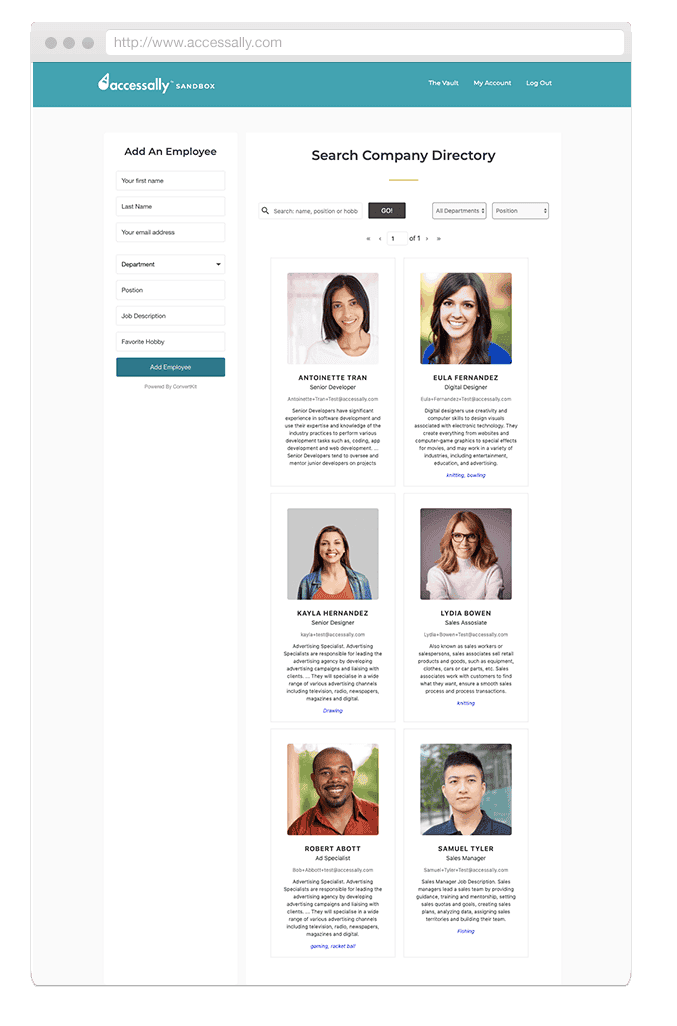 The User Directory allows you to display current site users in an attractive format. It's a feature flexible enough to be used for any variety of purposes, including:
A public directory of experts, where you can showcase graduates of your certification program on your website, helping them get more visibility and connect with their ideal clients.
A private directory, where your membership users can search for other students in their area and connect with them for meet ups, collaboration, and more.
A public user directory, where businesses or individuals can sign up (or pay!) to get a spot on the directory. (Like a business directory for a local chamber of commerce, for example.)
With search and filtering functionality, you'll love the simple convenience of building one (or more) directories on your site.
AccessAlly Pro:
the only WordPress membership plugin
that scales with your business
and pays for itself.