Are you thinking of using WordPress to create and sell your online courses?
In this post, you'll discover all of the great benefits of building your online courses on WordPress, but also why it might not be right for you.
You'll also get our best advice for creating an online course that people want to buy, and how to bring your course to market.
Selling Online Courses on WordPress vs. Hosted Solutions
When you're ready to build an online course, you'll need to decide if you want to go the hosted or self-hosted route. The easiest way to understand this distinction is by using the analogy of renting vs. owning a home.
If you choose to create and sell online courses on WordPress from your own website using a membership plugin or learning management system (LMS) plugin for WordPress, this is considered a self-hosted solution. This is a great option if you'd like full control and ownership over your site and its development environment.
If you want to make money selling an online course with a hosted solution, this is more akin to renting a home vs. owning one. Popular hosted solutions include Thinkific, Teachable, Kajabi, and Podia.
Whether you choose a hosted solution or a self-hosted WordPress plugin, you'll be able to build, advertise, and sell online courses from your own website or domain name.

Hosted LMS Solutions
Hosted solutions tend to be attractive if you:
have a low budget
don't want to invest a lot of time in the setup
don't intend for your course to play a major role in your business.
Why? Because you can pick a solution that's quick to set up, and you don't need to plan for advanced functionality beyond what the hosted LMS software can provide.
If this is your first online course, this route isn't a bad choice for testing proof of concept.
The downside is that you're dependent on your service provider when they alter their pricing or update their system, which might cause your courses to experience downtime. You could even lose income if you're unable to grant access or sell online courses during this downtime.
A key consideration when selecting a managed service for selling online courses is that you'll likely have to build and host your primary website elsewhere.
These services are designed to host only your online course content. While you can sometimes build your sales page and checkout forms using the service, these services are typically not intended to be the hub for all your content and marketing efforts. Despite many attempting to fulfill this role, they often fall short.
What to Expect When Building Courses with Managed Services
Signing up with a managed service to host your courses is akin to renting an apartment in someone else's complex. You're provided with a login, and you start uploading your content into the system. You can add your personal touch and style, and then invite learners to join and start teaching.
This is a quick way to launch your course, especially if you're not tech-savvy or don't place high importance on customizing the appearance. You can rapidly test your course idea, launch it, make some sales, and then focus on scaling up.
However, just like in a rental situation, you may not be allowed to make significant modifications. Your options within the service could be somewhat limited.
Furthermore, if you start with a managed service, you may later find it challenging to migrate your content and members to another service or a self-hosted solution.
As you don't own the system, it could be hard to get backups or export content. Therefore, before launching your online course, consider your long-term vision for your courses and memberships.
It's also worth noting that many of these services don't handle memberships effectively. They're typically designed with a specific purpose in mind. If you're creating a course, these services can be a great fit, but they might not offer the flexibility you need if you plan to expand your offerings.
Self-hosted LMS solutions
Self-hosted solutions include WordPress LMS plugins and are often chosen by those who view their courses as an integral part of their business, want to create a truly custom user experience for their course participants, and want to sell courses directly from their own website.
You might be looking to build a permanent source of recurring revenue by selling online courses from your website or expanding the value of your current service-based business. In either case, you're looking for a learning management system that will grow and expand with you.
While the cost may be higher than a hosted solution up-front to get up and running, these costs should be seen as an investment and will be easily recouped as enrollments start to come in and you scale your business. Plus, your total investment to get your online course setup may be less than you anticipate when all is said and done.
5 Benefits of Selling Online Courses on WordPress
If you're using WordPress and then you have the software that you install in the form of a plugin.
Here are the benefits of using WordPress for selling your online courses from your website. And remember, building on WordPress is akin to building your own home.
1. Completely Customizable
You get to decide exactly what goes in it, how you want it laid out, and you can add other plugins or add-ons to customize everything to your heart's desire.
You can create a truly custom membership or course. Building your online courses on WordPress gives you a lot more flexibility and has a lot more power built into it as well.
Using a membership plugin, LMS, or a combination of the two affords you the flexibility to offer a mix of memberships, online courses, digital downloads, and digital products or coaching.
There's a reason that 40% of the web is powered by WordPress. So out of all the membership websites and online courses that you visit or are a part of, 40% of them are using WordPress.
2. Extensibility & Ownership
WordPress is incredible because there are so many great options to choose from and different add-ons and themes that you can use to extend the functionality of your site and build things to work the way you want them to. This is so helpful when you want to create online classes to sell.
Plus, when you build on WordPress you have full access and control of your content and members. You can regularly back up your site; if you need to export members, content, or anything else from your site, you can quickly and easily do that on WordPress. You can even change website hosts, and you also own your domain and all of the other parts of it. It's fully in your control.
If you're unhappy with your hosting company, you can pick up and move. You can even switch to a different plugin if you're not happy with your existing one's feature set or support. You're never stuck in someone else's proprietary system.
Another big benefit of creating online courses on WordPress is its extensibility for integrations.
Whether you're integrating with your email marketing solution, a payment processor, a shipping service, or pretty much anything else you can imagine, there are a lot of options when you build on WordPress.
There are even plugins that all they do is help integrate different plugins with each other.
While integrations are a beautiful thing, there is a potential pitfall you'll want to avoid. You don't want to get into duct tape territory when building on WordPress.
The more systems you integrate and connect opens you up to potential issues if these connections get loose or broken based on updates to the plugins themselves or the WordPress platform.
Try to find a plugin that integrates directly with what it is that you use so that you don't have too many connector plugins and add-ons duct-taping your system together.
Things can get a little janky as things change over time.
3. No Additional Transaction Fees
Another big benefit of using, WordPress to run your online courses is that a lot of the WordPress course plugins do not have any transaction fees aside from the processing fees withheld by your payment processor. When using a platform as a service, one thing to watch out for is its fees. A good percentage of managed services will tack on and withhold an additional transaction fee or take a percentage of your sales.
As you're making sales and growing, you could also be giving away even more money to these companies. With a WordPress solution, you're less likely to have that.
4. Design Flexibility
When it comes to online courses, there are very traditional designs with simple things like sidebars and maybe even progress tracking. However, a lot of times, as course creators and creative entrepreneurs, we want things to look gorgeous on our websites and WordPress makes this possible.
WordPress makes it easy to design mobile-friendly sites, as well as custom and unique layouts.
Whatever you have in mind, you can do it on WordPress.
With that does come a little bit more maintenance though. So one of the drawbacks of having this amount of flexibility is that you will probably need to upkeep and maintain things as you add new courses or material to your online programs.
Design can sometimes be a double-edged sword when it comes to building your courses on WordPress.
However, if the design is something that is super important to you, then you will make it work. You'll find someone to help you implement a design or maintain your site if you need to. And you can also train people on your team or a VA.
WordPress shouldn't be that intimidating though, because remember, 40% of the web is powered by WordPress. That means there are also tons of WordPress-savvy people who are developers, designers, and implementers that you can hire to help you grow and scale your business. You don't have to do everything yourself.
5. Ongoing Development
Lastly, and most importantly, a major benefit of WordPress is that it is constantly improving.
WordPress isn't just a static tool, it's constantly evolving as technology evolves.
There are new versions and features being released regularly. And, it's becoming even easier to use with these new evolutions.
That in and of itself makes it a really great solution to choose and build your online courses on, especially when paired with the control and the power that you have over your content.
These are the reasons we highly recommend building and selling your online courses on WordPress.
Once you've decided whether you're going to build your online courses on WordPress or use a platform as a service tool, you can truly focus on your course creation.
Create an Online Course People Want to Buy
It's tempting to dive into your online course creation with both feet the minute the idea of an online course crosses your mind. But a lot of entrepreneurs invest a lot of time, money, and energy into creating an online course only to discover that their audience is looking for something much different.
How do you balance "testing an idea" with the need to move fast in an ever-changing market?
Validate your idea
If you have a community (or access to one similar to the audience you're creating your online course for), you can ask them for feedback directly. And don't forget to present follow up questions to their responses.
Identify the pain points that they're struggling with. Find out where they're getting stuck finding a solution to the problem your online course helps resolve. This will help you clearly define whether your online course idea will benefit them. Ask for examples of courses and training material that they love.
All of this information can help you identify whether you're on the right track or not with your course creation.
Upon completion of your research clearly define your online course focused idea and create a set of goals, benefits, and solutions that your online training course will bring to your clients.
Create your online course content
Take your focused idea and list of benefits and use it as an outline for your course content as you begin creating an online course.
Make note of any offshoot ideas that come up during the course creation process and tuck them away for future use (don't try to pack it all into a single online course).
Once you've outlined your course content, it's time to decide on the medium in which you plan to deliver the material to your course participants.
Decide whether your online course will be comprised of video trainings, audio trainings, PDFs and worksheets, and any quizzes you'll use to check comprehension. Be sure that the course hosting solution you choose supports each of your selected mediums.
Once you've determined the delivery format of your online course content and created your course material, you'll want to think ahead and consider "what's next" for your students.
If this course is received well, you know that you're on the right track with your material and delivery to rinse and repeat for future courses and digital product offerings. As you go through the course creation process the first time, make note of how you can streamline the course creation process in the future.
Keep in mind, it's easier to sell to existing customers than it is to sell to cold leads, so if you do well with this course your bottom line will continue to benefit from it long-term.
Having all your content created and ready to go before you start building the tech side will help the entire project go smoothly, with minimal stress. Think through the functionality you want and need to create a supportive learning environment and course experience for your online course participants.
We've done some of the heavy lifting for you – start researching the best online course platforms for your online course needs.
Offer a beta release
Zero to sixty is only cool if you're driving a muscle car.
In the online course world, building in a series of checkpoints throughout your beta release can help improve the overall quality and future success of your project.
That's why many online course builders and membership site owners recommend a limited release (often called a "beta" release) before you do an official launch of your online course to potential course participants, especially if this is your first course.
No matter how much time you spent coming up with the content, there's always an opportunity to improve the user experience for your students.
Many course creators offer a free or discounted signup period to a select number of students.
Once beta participants have a chance to experience the course for themselves, it's a good practice for you, the course creator, to meet with the students and ask for candid feedback on the quality of content and overall experience of the course. This gives you a chance to make any necessary tweaks to the course content and the overall user experience so you can take your online course from "good" to "excellent".
Practical Setup of a Beta Release
A beta release is a key moment where you have to decide between a quick-and-easy hosted virtual learning environment like Thinkific versus a more robust self-hosted solution like WordPress and AccessAlly.
On the plus side, a hosted online learning system will let you have the course up and running quickly so you can minimize the investment spent in setting it all up.
Ditch the duct tape with AccessAlly for WordPress.
Run your online courses, memberships, coaching programs, and communities in one place.
See it in action
On the negative side, running a beta release on a hosted system means you'll likely have to start from scratch again with a migration to an alternative LMS solution when you start to experience limitations in your growth and the flexibility needed to deliver a great user experience.
Migrations are expensive and time-consuming, so take this as a word of caution as you learn how to create and build an online course.
Ultimately, the decision is up to you, but we do recommend thinking ahead and asking yourself whether you want to set up the same course multiple times (and learn how to use two or more platforms in the process).
It may be a better use of your time to have your online course built on WordPress.
Using a WordPress LMS plugin allows you to design a custom online course experience that's built to scale as your business grows and evolves with your business needs over time.
Build an Attractive & Engaging Online Course
Building an online course to sell from your website requires you to make a shift from the more creative thinking and planning of content creation to technical know-how and patient work integrating systems in your tech stack and troubleshooting issues.
The next few points will help unravel each of the components you'll need to get started with the build itself.
Use secure hosting to support steady and growing traffic numbers
You might be tempted to start off on a hosted content management system like SquareSpace, but as this blogger explains, it's not a good idea to try to create courses on SquareSpace. There are better-hosted solutions for that, and you can compare LMS options here.
A reliable, secure WordPress LMS hosting solution will support fluctuating traffic numbers as your online course grows in popularity. A good hosting provider also helps keep your site safe (or safer) from hackers.
In the early years of her online course business, AccessAlly founder, Nathalie Lussier learned her lesson about choosing a reliable hosting company the hard way. In this WPEngine review, she shares the difficulties of dealing with a "cheap" hosting provider, as well as what led her to finally treat WordPress hosting as a serious investment for her business.
Protect data with an SSL certificate
When people sign up for your online course, they expect that you're dedicated to keeping their personal information secure.  An SSL certificate is a standard addition to any site. And it is so important that AccessAlly won't even let you take payments without one.
If you are unfamiliar with this process, select a reliable hosting provider who will have a technical support team available and willing to help you get an SSL certificate properly installed.
Choose a theme that allows you to customize your online course design
A major advantage to using a self-hosted WordPress site to sell your online courses from your own website is that you're basically presented with a blank slate, with the instructions: do whatever you want.
On the one hand, this means that you have the flexibility and an unparalleled opportunity to be original. On the other hand, it means that there's a lot of setup work involved.
Finding the right LMS theme for your online course website means that you need to be clear on what kind of layout you want, how many menus you'll be using, whether you're hosting videos or just written content, etc.
While there are a lot of course templates out there, it's important to choose a layout that will enhance user experience and learning.
A hosted solution like Thinkific may make your life easier when it comes to design: they've done all the work designing the pages. All you have to do is add in your content. While this may be a relief for some, it can also be frustrating, depending on how important your online course design is to your business.
Fortunately, many of the more flexible WordPress themes (like Beaver Builder, for example) come with templates that save you the hassle of DIY-ing it all.
AccessAlly users have access to a free theme, specially designed for online courses and membership sites.
Choose an online course plugin with structure and flexibility
Many online course creators have what I like to call the "Permanent Beta" mentality. They prefer to find the cheapest (aka free) tools available in an attempt to minimize startup costs. If this is your first course, the allure of cheap tools can be attractive.
Unfortunately, cheap tools often result in a cheap final product, full of glitches and technical issues that can quickly sink your enthusiasm for the whole project.
To find the right plugin, start with a list of your non-negotiable features such as multi-level memberships, payment plans, drip-release courses, membership directories, and umbrella accounts.
Once you have your list of must-have features identified you can then research the list of the best course plugins that may be able to deliver on your specific requirements.
Does this mean that you should go all-in on the best and brightest software tools available?
Not necessarily. If you're having trouble finding the right balance in your tech stack, take time to review our guide: Online Business Tools Checklist: Do You Really Need To Pay For That New Tool?
Gut check:
If your budget truly can't support the investment in quality hosting or a good online course plugin, you might be better off choosing a hosted solution like Thinkific or Teachable. These eLearning solutions are specially designed for online courses and will present a much better experience to your clients than a cheap or free WordPress course plugin.
Start with the basics before getting fancy with bells and whistles
If you've invested in a robust LMS plugin (the kind that lets you build online courses, checklists, progress tracking, and more), it's tempting to try to "do it all".
The danger with this approach (unless you're a tech aficionado with no time limit who loves a challenge) is that you spend time and energy on advanced setup before actually producing any courses or revenue.
It's better to have a straightforward, proven online course before adding in more advanced features, such as gamification to create a credit or points system for rewards.
Presenting & Selling the Course
Once you've successfully managed to create an online course on your own website, it's time to create a marketing system that helps your training succeed and grow into a source of recurring revenue for your business.
Your marketing strategy will be the catalyst in helping you reap all of the benefits of online courses.
Create a powerful sales page that converts
Think of the sales page as the "storefront" of your online course. It should be attractive, inviting, and compelling enough so that people want "in".
Whether you have a copywriter on your team (or are one yourself), it can be helpful to follow some general tried-and-true guidelines for writing a sales page that converts.
Learn more from these sales page examples.
Maximize conversions with order forms that convert
If you're lucky, the membership or online course plugin you chose will also include e-commerce features, or the ability to sell recurring subscriptions, payment plans, and present discounts, in addition to simply selling access to your courses.
Another thing you might want to include in your checkout process is an abandoned cart email sequence, where you follow up automatically when someone starts an order but leaves before the transaction is completed. It's a simple process that helped us recapture 43% of our lost sales.
You'll also want to take into account any additional security measures like the recent European Secure Customer Authentication (SCA) requirements and how to price your online course.
Support students through interaction and engagement
You might be surprised that a learning management system isn't a magic cure-all for student engagement in your courses.
Take time to engage with your students 1-1 or in groups, offer ongoing support, be present to answer their questions, and maintain an attitude of active listening so you can take action the moment serious issues are identified.
One way to increase interaction and engagement with your students is by including a group chat or forum-like atmosphere where all course members are free to interact with each other.
Monitor metrics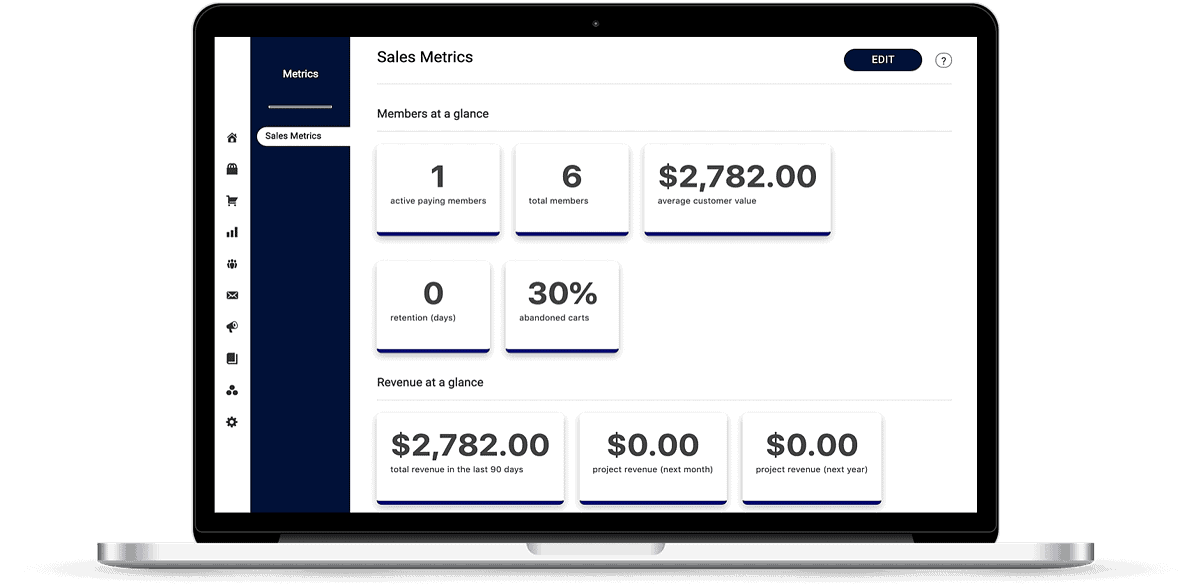 From day one, tracking metrics will help you identify and take advantage of massive growth opportunities, increasing the profit you receive from your online courses.
From forecasting your revenue to evaluating your current offerings, making data-informed decisions contribute to the overall health of your company. Tracking these metrics can be done on your LMS reporting dashboard.
Learn more about some of the metrics you may want to monitor here: Tracking Metrics: 11 Business Metrics Examples for Membership Sites
Maximize Profits Through Automation
Finally, it should almost go without saying that the more you can automate and integrate between your systems, the more time you'll have to spend on supporting your online course participants and activities you enjoy in your business, rather than customer support and troubleshooting technology.
While many LMS plugins include standard "automation" like sending out an email when someone signs up for a course, the reality is that there's potential to go much deeper when you work with a WordPress course plugin that integrates with a marketing automation system.
In the latter case, you can get as fancy as you want, from reminders to log in when the user has been MIA for a time, to those abandoned cart sequences we talked about earlier.
This is where choosing more of an all-in-one WordPress solution can really make your life easier. You'll be able to manage your entire online course system with a single integration. (As compared to a multi-plugin setup, where you have to find a way to link all the tools up to each other, when they aren't designed to work that way.)
Learn more about some of the marketing automation tools and CRMs that we recommend you review our CRM comparison.
Sell Online Courses That People Want to Buy
Creating and selling an online course on your own website takes a little more love and attention than if you were to just throw your content into a hosted LMS solution.
However, the power and flexibility it gives you in return more than pay for itself in terms of time saved (long-term) and revenue.
As you embark on this journey to create online courses, balance your short-term income goals with long-term business plans. You might want to sell courses to whole companies, but starting with individuals is fine too.
And if it makes sense to invest in an online course to help guide you and hold you accountable in creating your online courses, don't be afraid to take it on so you can create an online course you can be proud of selling for years to come.